All,

It's time to not only celebrate but bow down in gratitude to not only one of the greatest players in the history of tennis (male or female) but the absolute greatest single individual athlete in all of sports period in the 21st century thus far. This amazing, extraordinary champion has won more major titles in her sport than all the other individual male icons in their respective sports, including the most celebrated and iconic living legends in the individual sports of both tennis (Roger Federer) and Tiger Woods (golf) over the past 20 years. THINK ABOUT THAT FOR A MOMENT. Then reflect on what it means to the history of sports in the U.S. since 2000 and how this magnificent black female dynamo from Compton, CA. has not only won 19 major titles since making her professional debut in 1998 but has won 70 million dollars thus far for her work and over $60 million more in commercial endorsements. And at 33 (an age considered almost ancient for major competitive tennis stars) Serena is not only still going strong but has already won more major titles after the age of 30 (six) than any other player in tennis history, male or female. Also since she turned 30 in 2011 Serena's overall won loss record in matches is a phenomenal 197-18 or .916—also the greatest win-loss percentage for ANY player in tennis history past the age of 30, male or female. So we should revel in this woman's legendary exploits while we can because we are not likely to see such a major dominating athlete in any sport for many years to come…

Kofi

http://www.nytimes.com/2015/02/01/sports/tennis/serena-williams-beats-maria-sharapova-in-australian-open-final.html?_r=0

Tennis

Serena Williams Wins Australian Open With Coughs, Guts and Aces
by CHRISTOPHER CLAREY
JANUARY 31, 2015
NEW YORK TIMES
Serena Williams won her sixth Australian Open singles title Saturday, beating Maria Sharapova. Credit William West/Agence France-Presse — Getty Images

MELBOURNE, Australia — The record still shows that Maria Sharapova is a pushover for Serena Williams: her muse, her matchup made in tennis heaven.

Williams's 6-3, 7-6 (5) victory on Saturday in the Australian Open final extended her winning streak against Sharapova to 16 matches, despite all the velocity and volume that Sharapova has mustered over the last decade.

Forget head-to-head. This is off with her head.

Yet Williams, who said she had a severe cold for much of this tournament, encountered some headwinds. She left the court during a rain delay in the first set and, for the first time in her nearly 20 years as a professional, threw up during a match.

"I guess there's a first time for anything," she said. "I think, in a way, that just helped me. I felt better after that."

Complacency has never been a Williams failing in Grand Slam finals. There is a reason she is 19-4 in such matches, for a winning percentage (.826) superior to those of all the serial champions in women's tennis history except for Margaret Court.

Williams, being Williams, kept blasting clutch serves and returns and also kept fighting that feeling in the pit of her stomach that something might go awry. The skeletons in her Grand Slam closet got a good rattle in the seventh game of the second set, when a hindrance call cost her a point after she shouted, "Come on," in the middle of a rally.

Shouting the same words had cost Williams a point and her composure during the 2011 United States Open final, which she lost to Samantha Stosur of Australia. But on Saturday, Williams, the No. 1 seed, accepted the penalty with equanimity, even levity, mocking the situation with a sarcastic "come on" later in the game delivered well after a winner had landed.

"I would have never done that three years ago, four years ago; I would have stayed in the zone," she said.

She hardly went on cruise control, however, which was just as well because Sharapova, for a change, was not making her way quickly to the consolation prize. The second-seeded Sharapova kept clawing back. She saved one championship point when serving at 4-5 in the second set with a forehand winner that landed in the corner. She saved another at 4-6 in the tiebreaker with a gutsy second serve that set up another big, bold forehand.

More From the Australian Open
Sharapova, who had already saved two match points in the second round, could have been excused for feeling the tug of destiny. When it was Williams's turn to serve on a match point, she slammed what she thought was an ace into the corner, dropped her racket to start celebrating and then realized it had been called a let.

"I thought after the let, Man, I am not meant to win this tournament," she said. "I had a couple of match points. I mean, she played great on those match points. She totally went for broke. I was like, come on!"

But Williams has not made it to 19 Grand Slam singles titles by dwelling in the past instead of swinging big in the present.

All she did this time — once she had removed her hands from her hips and the slightly incredulous look from her face — was return to the service line and slam an ace into the same corner to finish off Sharapova and win her sixth

Australian Open singles title.

"I think only Serena can do that," her coach, Patrick Mouratoglou, said, referring to the ace.

It was quite a serve, quite a set of circumstances, but as Williams pointed out in her emotional victory speech, she has overcome a great deal more than that in her 33 years. With her 19 titles, she is tied for third on the career list of Grand Slam singles champions.

"Growing up," she told the crowd at Rod Laver Arena, "I wasn't the richest. But I had a rich family in spirit and support, and standing here with 19 championships is something I never thought would happen. I went on the courts with just a ball and a racket and a hope, and that's all I had."

Williams was already the oldest woman to reach the Australian Open singles final in the Open era. She is now the oldest woman to win the singles title in the Open era, surpassing Li Na, who won it last year at 31.

Williams's latest phase of excellence began at Wimbledon in 2012, when she joined forces with Mouratoglou. Since they began working together, Williams has won six of the 11 Grand Slam events she has contested.

"You really believed in me," she said to Mouratoglou from the court, referring to her health problems in Melbourne. "There were moments I didn't believe in me, but you did. I'm so grateful to have you in my life and on my team."

Williams is now tied with Helen Wills Moody on the career list at 19, behind Margaret Court (24) and Steffi Graf (22). Saturday's victory broke her tie with Martina Navratilova and Chris Evert. Navratilova presented Williams with the winner's trophy as Sharapova looked on, composed but deflated. Again.
Maria Sharapova in Saturday's final against Serena Williams, whom she last defeated in 2004. Credit Clive Brunskill/Getty Images

Sharapova has won all four Grand Slam singles tournaments, twice coming back from major shoulder problems. But despite her competitive spirit and her self-improvement streak, she has been unable to come up with an antidote to Williams.

Sharapova last defeated her in 2004 and has won just one set in their last 12 matches. Over all, she trails, 17-2, but remains a gracious loser.

"I haven't beaten her in a really long time, but I love every time I step on the court to play against her because she's been the best, and as a tennis player you want to play the best," Sharapova said in her postmatch remarks on court.

Williams's serve remains the most devastating weapon in the women's game, and it made the difference again Saturday as she hit 18 aces and won 84 percent of the points when she put her first serve in play.

Sharapova, a world-class returner, made significant inroads when she got to face second serves, winning 62 percent of those points. But at critical junctures, Williams rarely gave her a second serve to attack.

In the opening set, with Williams serving at 3-2, play was stopped at 30-30 because of light rain, and there was a 12-minute delay as organizers closed the roof and turned the final into an indoor match.

Williams, who had been coughing before some serves and returns, left the court in visible distress. She said the respite provided considerable relief. She returned and, with no warm-up, nailed an ace down the middle to get to 40-30. She won the next point with a forehand winner.

"I just threw up, and I had to run back on the court, and I thought, I've got to hit an ace," she said. "For me there's no other option. That's my game."

Sharapova struggled to hold serve and was broken three times in the match, finishing with five aces and four double faults. It required some great escapes for her to even reach the tiebreaker in the second set.

But Williams eventually imposed her will by hitting the same unreturnable serve twice, and was soon celebrating with a series of kangaroo hops down under.

Next step: No. 20.

Ben Rothenberg contributed reporting.
Serena Williams claimed her 16th straight victory over Maria Sharapova, winning 6-3, 7-6, to secure her 19th grand slam title and sixth in Australia

Serena Williams on her Australian Open triumph
Katy Murrells:


Saturday 31 January 2015
Right, that's it from me, I'll leave you with Kevin Mitchell's match report:
What was most remarkable about Serena Williams's 17th career win over Maria Sharapova, delivering her a 19th major to draw within three of Steff Graf's Open era record of 22, was that she could not lose, whatever the result. So publicly had she suffered throughout the 2015 Australian Open with a hacking cough that could be heard even over the screaching of the game's loudest interjectionists, it was impossible for Sharapova to win. As it happened, their 19th encounter went the way of nearly all the others, Williams winning 6-3, 7-6, despite the Russian's best fighting instincts. In grand slam finals, Williams, the oldest champion here in the Open era, is 19-4, the best percentage performance in either the men's or women's game. She is a phenomenon.

"I love you back," she shouted to a fan in the audience before accepting the trophy on court. "In the end I was able to come through. I also have to congratulate Maria who really pushed me tonight. She gave us a great final. "Growing up I wasn't the richest, but I had a rich family in spirit. Standing here with 19 championships is something I never thought would happen. I went on a court just with a ball and a racket and with a hope." Thirty years after she won her third Australian Open, Martina Navratilova was on hand to witness Williams's untrammelled progress towards further glory.

And here comes Williams, described by the announcer as a "phenomenon, an icon and a legend." Navratilova hands over the Daphne Akhurst trophy and Williams holds it aloft. Navratilova looks extremely gracious, considering Williams has just overtaken her tally of 18 grand slam singles titles. "I love you Serena!" shouts one fan. "I love you too," replies Williams.

I have to congratulate Maria. She gave us a great final, not only for you guys but for women's tennis. I'm really honoured I got to play you in the final. Growing up, I wasn't the richest, but I had a rich family in spirit and support, and standing here with 19 championships is something I never thought would happen. I just went on court with a ball, a racket and a hope, that's all I had. And it's an inspiration for you guys who want to be the best – you can be, never give up and you don't know who you can inspire. You never know what can happen. I'm so honoured to be here tonight and to hold this 19th trophy.

Williams looked quite choked there, that was a heartfelt speech. The 19th title clearly means so much to her. And so it should. She's proved her tennis greatness once again and, if she can stay fit, has a fantastic chance of closing in on Graf's record of 22. We're so lucky to be able to watch such a wonderful player, athlete and competitor in this era.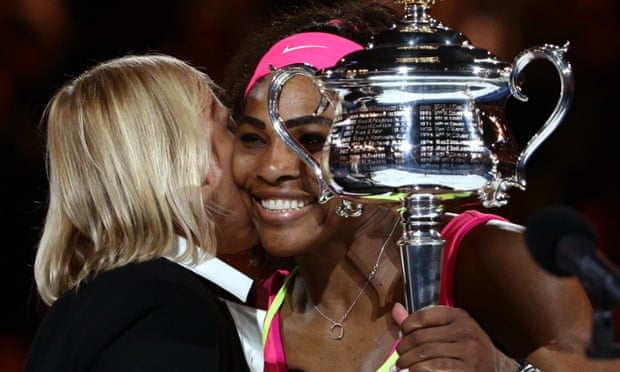 Serena Williams receives the trophy from Martina Navratilova. Photograph: Rob Griffith/AP

Trophy time

Sharapova trudges up to collect her third runners-up plate at the Australian Open from Martina Navratilova. Here's what she has to say:
"First of all I've got to congratulate Serena for creating history. It's really an honour playing against her. I haven't beaten her in a really long time, but I really love playing against her as she is the best and you want to play against the best. So congratulations on an incredible achievement. It's been a long couple of weeks. I was almost down and out in the second round, so I feel like I had a second life in this tournament. It wasn't quite enough today, but I gave it everything. I love playing in the Rod Laver Arena, I've had some of my best memories and toughest losses, but that's the life of a tennis player."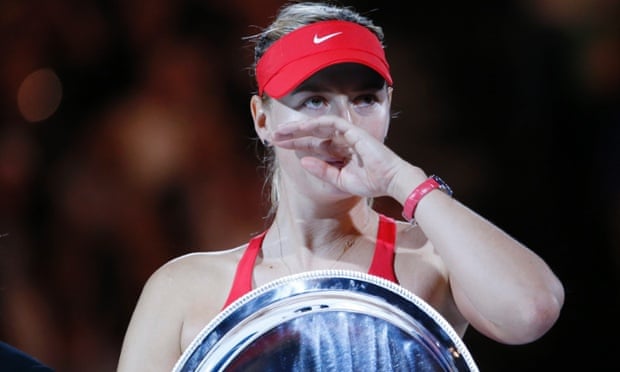 Maria Sharapova during the presentation ceremony. Photograph: Made Nagi/EPA

Sharapova sits slumped on her chair, probably pondering just what she has to do to beat her bête noire. While we wait for the presentation, some Twitter reaction ...

— Anne Keothavong (@annekeothavong) January 31, 2015




Did you expect anything other than an ace from Serena to take the title? Too good #19Slams #AusOpen





— Caroline Wozniacki (@CaroWozniacki) January 31, 2015




Big congratulations to my big sis @serenawilliams on #19! Such an inspiration! #champ





— Brad Gilbert (@bgtennisnation) January 31, 2015




You would think that SW might get couple more slams this year to inch closer to Steph





— Brad Gilbert (@bgtennisnation) January 31, 2015




Honestly Shazza could not have played any better but that is not good enough to beat a in form SW in a grand slam final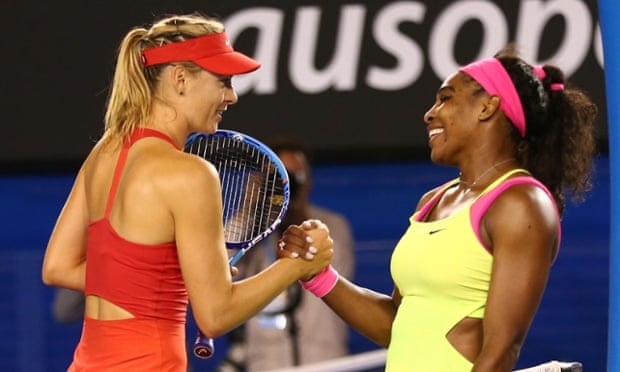 After the hostilities, the pair share a warm exchange at the net. Photograph: Clive Brunskill/Getty

SERENA WILLIAMS WINS 6-3, 7-6 (7-5) TO BECOME THE AUSTRALIAN OPEN CHAMPION FOR A SIXTH TIME!

Williams think she's won it with an ace – the crowd think she's won it – but the umpire calls a let! But Williams recovers her poise, and settles matters with another ace, her 18th of the day. A fairly fitting end given her serving performance in this final. Williams looks subdued for a second, probably checking the umpire's not going to halt her celebration this time, before skipping to the net and a fairly warm exchange with Sharapova, it has to be said. Williams jumps up and down with joy, lets out a squeal or two before signalling to her box. She's the Australian Open champion for a sixth time, it's her 19th grand slam title (she's now only three behind Steffi Graf's Open era record of 22 and moves ahead of Chris Evert and Martina Navratilova on the all-time grand slam winners' list) and, once again, Sharapova ends up being a vehicle for Williams's greatness.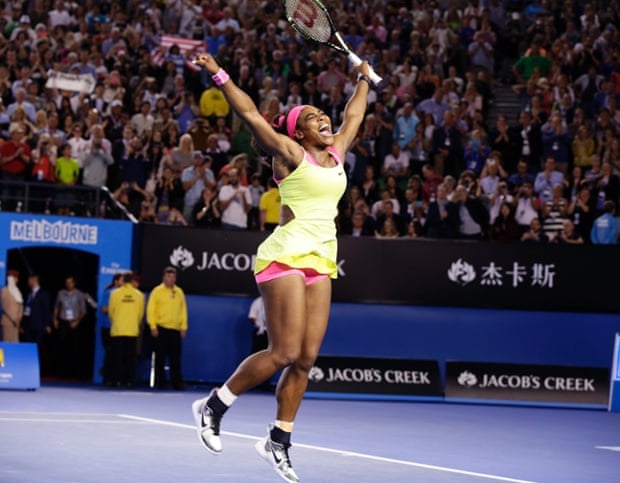 Serena Williams is jubilant after winning her sixth Australian Open title. Photograph: Barbara Walton/EPA
Serena Williams winning speech (Final) - Australian Open 2015—January 31, 2015:

(Serena Williams speaks to Rod Laver Arena at AO after her win over Maria Sharapova in the Women's Final of the 2015 Australian Open)



Serena Williams vs Maria Sharapova
FINAL CEREMONY HD Australian Open 2015:



By Jonathan Liew, in Melbourne
31 Jan 2015

40 Comments

Finally, a match worthy of the hype. Finally, Serena Williams and Maria Sharapova gave us a contest worth talking about. And even if the outcome was a familiar one – a 16th consecutive victory for Williams, 6-3 7-6 – this was a final of high tension and high thrills, as the world's top two players stared each other down, screamed each other down and refused to budge an inch.

"She really pushed me tonight and played so well," Williams said after her Australian Open success. "She gave us a great final, not only for you guys, but for women's tennis."

It was Williams's 19th grand slam title, moving her ahead of Chris Evert and Martina Navratilova, with only Steffi Graf left to catch. And although she will cherish them all, you could tell as she bounded across the Rod Laver Arena in victory that this one felt particularly special.

She had, after all, beaten two opponents: the indefatigable Sharapova, and her own body.

Williams has been feeling poorly all fortnight. On Friday, she had been forced to cut a practice session short because of it. On the morning of the match, she was running a temperature of 102 degrees. In the middle of the first set, when play was temporarily halted for rain, she went to the bathroom and promptly emptied out her insides.

None of this managed to slow her down.
Imperious: Serena Williams was at her brilliant best in Melbourne
"I ended up throwing up, actually," she said. "I think that helped me, when I got everything out of me, cleared my chest out. I just got a really bad cold and a really bad cough. Usually when that happens, you stay in bed."

Only a woman of Williams's rare and peculiar optimism could take the positives out of a mid-game vomit. And at the same time, you had to feel for Sharapova. Since her last victory over the American in 2004, Williams has beaten her in every imaginable fashion – on grass and clay, indoors and outdoors, in three-set thrillers and hour-long drubbings, in sickness and in health. So perhaps it was simply muscle memory kicking in when she took the microphone and delivered a magnanimous tribute to her greatest foe.

"I love every time that I step on the court against her," she said. "Because she's the best. And you always want to play against the best. I'm proud to play in the same era as her."

So does Williams bring the worst out of Sharapova, or does Sharapova bring the best out of Williams? Too often it has been the former, but here it was resolutely the latter. It was loud and fiery and gladiatorial, the pair trading screams as readily as they traded groundstrokes, and that seemed to suit Williams.
Agony: Maria Sharapova once again failed against her old rival Serena Williams

It was, in every respect, a consummate display from her, founded as much on defence as attack. She returned about as well as she has ever done, made Sharapova play one more ball, pounced on her opponent's second serve. And when she found herself in trouble – as she did more than once in the second set – she was able to call on her Nasa-designed serve to bail her out of trouble.

And so this is at least one respect in which Sharapova – or, indeed anyone – will probably never be able to match her. "As much as I would love to hit a 200kph serve, I don't think that's feasible with my shoulder," Sharapova smiled. "There's a lot of things I would love to do in this world, but I can't."

When Williams took the first set, breaking three times along the way, another mismatch threatened. But as the stakes rose in the second set, so did the temperature, and so did the volume. At one point it was hard to tell whether they were wailing at themselves or each other, or possibly both. Williams was docked a point at 3-3 for shouting "Come on!" before Sharapova had played her return, thinking she had hit a service winner.

But while there may be a deep well of animosity between them, a rivalry fomented over 11 turbulent years, there is respect there too. At 4-5 Sharapova saved her first match point with a crunching inside-out forehand winner. Even Serena had to applaud.

And so to the tiebreak. Sharapova claimed the first mini-break, but Williams won the next three points to seize control. At 5-4 up Williams, standing almost halfway to the service line, slammed a perfect return winner to bring up two match points. Sharapova saved the first, but a crunching ace – how else? – brought up title number 19.

Suddenly Williams looked a little tired; as if the exertions of these two weeks and these two hours were all weighing on her at once. Then, at last, she found a second wind, and started leaping in pure delight: a vaulting tribute to skill, will, endurance and the power of a good spew.