Editor's Note:
This article and my response marks the beginning of what will be a year long series of articles, essays, commentary, and critical analyses by myself and others of the profound and ongoing historical impact of the pivotal years of 1963 and 1863 in the history of this nation and that of its African American citizens.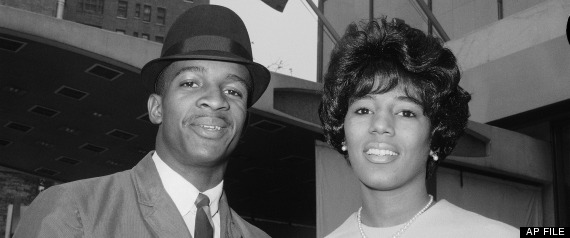 In this June 9, 1963 file photo James Hood and Vivian J. Malone of Alabama pose in New York
All,
History/Time is really moving and I mean FAST. It's incredible: I remember so clearly this very day--June 11, 1963-- that James Hood and Vivian Malone-- accompanied by the U.S. Deputy Attorney General Nicolas Katzenbach and National Guard troops-- walked right past the arch segregationist Alabama Governor George Wallace who, along with Alabama state troopers, was literally standing in the front entrance door of the University of Alabama trying to physically block them from entering. I watched this entire dramatic episode on television with my parents in Detroit. I was absolutely fascinated by this event and my visceral response to it left a very sharp and absolutely indelible impression on me as a child. A huge synapse went off in my head not only because of what Hood and Malone and the Kennedy administration did--that was extraordinary enough!--but by what also happened on that very same day. Imagine: Less than 10 hours after this event Medgar Evers the legendary NAACP leader and activist from Mississippi (age 37) was assassinated as he was shot in the back by a KKK assassin just as he was taking out his keys to open the front door of his home just before midnight as his wife and three children watched in horror as they came to the door to greet him. Evers had been at a long meeting of the NAACP that evening discussing the events of that same day which also included a groundbreaking speech by President Kennedy just four hours earlier on national television in which for the very first time his administration made a clear and definitive committment to pushing for and demanding that civil rights legislation be passed--another event I witnessed with my parents on TV that evening. I remember like it was yesterday with my father saying to me in a very serious tone that I "really needed to see and hear what the President had to say" and that it was very important that I "pay close attention." My mother and father were watching the speech with such intense riveted interest that I was again mesmerized by what I saw and heard the president say. In that speech before the entire nation Kennedy said the following:
Finally on this very same day(!!) Dr. Martin Luther King, Jr. and the legendary black labor union leader A. Phillip Randolph announced that they and a national coalition of civil rights organizations, labor unions, civic groups, activists, clergy, and ordinary citizens were organizing a national event known as the

'March on Washinston for Jobs and Freedom'

to be held in the nation's capitol of Washington D.C. in two months on August 28, 1963. WHAT AN AMAZING DAY IN AMERICAN HISTORY. I rest my case...
Kofi
James Hood Dead: Man Who Defied Racial Segregation At University Of Alabama Dies At Age 70
By BOB JOHNSON
Huffington Post
MONTGOMERY, Ala. — One of the first black students who enrolled at the University of Alabama a half century ago in defiance of racial segregation has died. James Hood of Gadsden was 70.
Officials at Adams-Buggs Funeral Home in Gadsden said they are handling arrangements for Hood, who died Thursday.
Then-Alabama Gov. George Wallace made his infamous "stand in the schoolhouse door" in a failed effort to prevent Hood and Vivian Malone from registering for classes at the university in 1963.
Hood and Malone were accompanied by Deputy U.S. Attorney General Nicholas Katzenbach when they were confronted by Wallace as they attempted to enter the university's Foster Auditorium to register for classes and pay fees.
Wallace backed down later that day and Hood and Malone registered for classes.
UA President Judy Bonner remembered Hood as a man of "courage and conviction" for being one of the first black students to enroll at the university.
"His connection to the university continued decades later when he returned to UA to earn his doctorate in 1997. He was a valued member of The University of Alabama community, and he will be missed. Our thoughts and prayers are with his family during this difficult time," Bonner said.
Hood was the last survivor among the major figures in the schoolhouse door incident. Wallace died in 1998, Vivian Malone Jones in 2005 and Katzenbach last year.
After enrolling, Hood remained at UA for a few months and moved to Michigan, where he received a bachelor's degree from Wayne State University and a master's degree from Michigan State.
He later moved to Wisconsin, where he worked at the Madison Area Technical College for 26 years. He retired in 2002 as chairman of public safety services in charge of police and fire training.
He finally returned to UA later in life to earn his doctorate.
Culpepper Clark, author of "The Schoolhouse Door: Segregation's Last Stand at the University of Alabama," called the schoolhouse door incident "an iconic moment" in the Civil Rights Movement because it provided a confrontation between Wallace and the Kennedy administration. He said the incident was "symbolically important" and helped lead to passage of the Voting Rights Act.
Clark described Hood as a man with a lot of "intellectual energy" who understood the importance of what he did at the University of Alabama in 1963.
"He didn't try to make it into more than what it was," Clark said.
The Rev. Preston Nix grew up in Etowah County and said he knew of Hood, who was several years older than he.
Nix said it took a lot of courage for Hood to challenge the segregation at the University of Alabama in 1963.
Nix said he felt Hood did what he did partly to "pave the way" for others to be able to improve themselves and get a higher education and partly because he wanted to attend the University of Alabama.
Samory Pruitt, vice president for community affairs at UA, agreed with Nix.
"Because of what he did, people like me were afforded the opportunity to go to the University of Alabama," said Pruitt, who is black. "I think it's about people having the opportunity to be the best they can be."